Chamber Chatters
A Toastmasters Club to Ch-Ch-Ch-Chat About!
We meet each Wednesday from Noon to 1:00 p.m. in the Pleasanton Chamber of Commerce Conference Room
777 Peters Avenue
Pleasanton 94566
Phone: (925) 846-5858
E-mail: Kate D'Or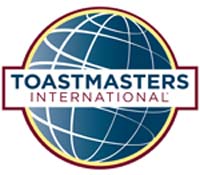 Visit our club website and blog.
What can Toastmasters Help You Achieve? CONFIDENCE AND MENTAL AGILITY!
At Toastmasters we enjoy a comfortable surrounding in which to strengthen our public speaking skills.
Toastmasters International or Toastmasters District 57 websites
Disclosure: The names "Toastmasters International," "Toastmasters" and the Toastmasters International emblem are trademarks protected in the United States, Canada, and other countries where Toastmasters Clubs exist. Unauthorized use is prohibited.
Visitors welcome!