Chamber Chatters
Curious about Toastmasters?
Do you need to develop outstanding Communication and Leadership Skills?
At Toastmasters, we practice public speaking in a comfortable environment. Out club culture values self-improvement and life-long learning.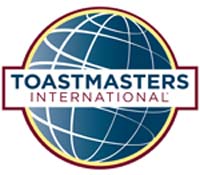 Chamber Chatters Club is part of Toastmasters International
We meet every Wednesday from 12:30 noon to 1:30 p.m.
Guests are always welcome to attend for free!
We have been meeting on Zoom during the pandemic. If you would like to join us, send an email for the Zoom link:
When we can return to meeting in person, please come join us at:
The Pleasanton Chamber of Commerce
777 Peters Avenue, Pleasanton CA 94566
Disclosure: The names "Toastmasters International," "Toastmasters" and the Toastmasters International emblem are trademarks protected in the United States, Canada, and other countries where Toastmasters Clubs exist. Unauthorized use is prohibited.